The Alba Protection System certification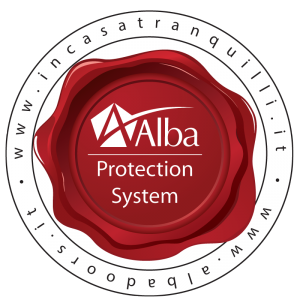 The Company Alba, guarantees its products against manufacturing defects by law. In addition to classic certificates by certification bodies, Alba has wanted something more to witness the extreme quality of our products. Thus it was conceived the APS, a brand that qualifies products as superior to the standard quality: regarding the Alba attention on process control and product testing.
The Wood advantage
The excellent thermic and acoustic features makes solid wood and wood-alluminium the ideal solution to the current standards. The laminated wood dimensional stability, combined with our coating technologies, allow us to reduce to a minimum the maintenance of our windows.
The aesthetic of real wood makes rooms more confortable and stylish, far away from other materials decorated with adhesive plastic films.
Wood
Cielo is a window with leaf of thickness 68x88mm (flat profile). It is released both in solid wood and in laminated wood, the shutters Cielo are fixed on the frame 59x70mm and finished with internal architrave 50x10mm or optional rounded of 70mm.
The profiles juction between leaf and frame is of 90° with steel tie-rod, brass threaded insert and glued beech thorns. The hinges are Anuba double leg of 14mm same finish of the handles: Brass, Satin, Bronze.
The drip sill is inserted in the lower part of the window by means of two or more discharge loop, in the French windows this is a thermal break alluminium low thickness of 28mm.
Cielo has three seals, one on the leaf, one on the frame and another one on the hardware hollow.
Three seals for each shutter one on the frame (outer), one on the leaf (internal) and one on the hollow.
Hinges Anuba double leg of 14mm adjustable both in height and in width and in depth (Otlav series) and equipped with finishing caps with color as handles.
Quality ALBA PROTECTION SYSTEM.
Wood - Alluminium
In the Wood-Alluminium version, Cielo can be decorated with lacquiering RAL or wooden effect.
The outer covering in alluminium is releases with thickness profiles of:
75x16mm for frame
46x20mm for shutter
96x10mm for central hub
130x10mm for base of the French window.
The alluminium profile of the upper/lateral hub of the frame is available, depending on the subframe used, in the sizes 75x16mm / 55x16mm / 45x16mm.
The lock off of the frames takes place via spacer clips screwed on the wood. This structure allows the split between the wood and the alluminium, thus creating a cavity of few millimeters which allows the elimination of the internal condensation.
Certifications
Certifications and certified documents of conformity in accordance with:
Impact resistance from soft and hard body (UNI EN 13049) = CLASSE 5
Air permeability (EN 1026 / UNI EN 12207) = 4
Water tightness (EN 1027 / UNI EN 12208) = 5A
Wind resistance (EN 12211 / UNI EN 12210) = C2
MADE IN ITALY marked CE.