GHOST
FEATURES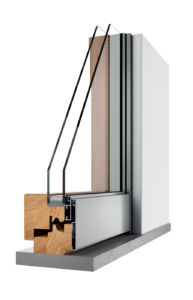 Minimal design and maximum Rough Opening;
Wooden window with external aluminum cladding;
Wooden windows in Laminated Pine with shutter thickness 68×70 or 80×70 mm;
Burglarproof handle and burglarproof system;
Standard handle and hardware Made in Italy;
Maniglia e ferramenta Made in Italy di serie;
Secondary shutter block;
DK hinge;
Hidden hinge;
Internal wood available in Modern style or in Baroque style;
3 phases water painting productive process;
Cut at 90°;
Double glass SGG PLANITHERM 4S, available also with triple glass on the 80×70 mm profile;
Wood colors, White or RAL colors (optional);
Features of the Wood/Aluminum combination
WOOD/ALUMINUM
Windows obtained by the conbination of wood and aluminum are the most performing.
Indeed these windows blend the advantages of the two different construction systems, combining their advantages and quality.
Wood used in the inner part of the windows guarantees:
Natural aesthetic value
Thermal and acoustic insulation
Malleability and versatility
Aluminum used as outer cladding, guarantees:
Lightness
Strength and greater resistance against burglaries
Excellent performance from the point of view of thermal and acoustic insulation
In addition to all these features there is the maintenance since the increased longevity and strength of aluminum, protects wood from atmospheric agents of weather and pollution.
Moreover, their durability and recyclability make them two sustainable and environmentally friendly materials.
MATERIALS
It is important to clarify that the windows performances is not only related to the material used, but to the complexity of the window in its accessories, glass and seals. These elements, if of quality and correctly assembled, make a high performance of acoustic and thermal insulation. For this reason, Alba has chosen exclusively materials and leader suppliers for innovation and reliability: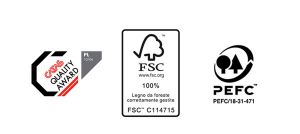 Wood: Wood used, exclusively Made in Italy and certified eco-sustainable, guarantees a natural aesthetic value, thermal and acoustic insulation, malleability and versatility. Furthermore, the durability and recyclability of wood makes this material sustainable and environmentally friendly.
Aluminum: Aluminum is a chemical element and it is the third most common element in nature. It forms 8% of the earth's surface, it is not found free but in minerals. Aluminum is a very precious material, since it has many properties, offers an excellent barrier to light, is not permeable and can be 100% recycled and over and over again without losing its original qualities.

Glass: Glass is an essential element to made performing windows. Alba uses the glass of the French industrial leader Saint Gobain. SGG PLANITHERM 4S standard glass is a clear glass with deposits that provide, at the same time, more thermal insulation and greater solar control. Winter-summer comfort function maintains a pleasant atmosphere all over year:

In summer, thanks to its solar control function, 4S glass rejects twice as much solar energy as a normal double glass;
In winter 4S glass offers thermal insulation 3 times higher than that of a normal double glass;
All this allows to reduce the cooling and heating costs of the home, lowering the cost of bills by 30%.
Seals: A chain is said to be strong just as much as its weakest link. This also applies to the windows industry. Doors and windows are as strong as their seals. A low-quality seal can easily neutralize the energy savings of insulated profiles and HR glass filled with Argon. For this Alba uses only Schlegel seals. Thanks to the 10-year warranty, the Q-Lon seals are a safe choice over time. Compared to common sealing systems, the advantages are an incomparable resistance to compression and stretching, temperature changes, molds, pollution and paints.