Tax deduction of up to -65% for 2016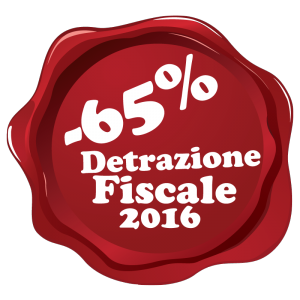 Continue the tax deductions for 2016, thanks to Urano you can get the benefits extended for 2016, click here to learn how to get them.
Ensures your door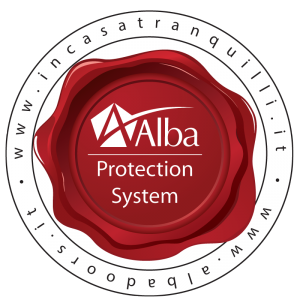 alba protection system
The Company Alba guarantees its products against manufacturing defects by law. In addition to classic certificates by certification bodies, Alba has wanted something more to witness the extreme quality of our products. Thus it was conceived the APS, a brand that qualifies products as superior to the standard quality: regarding the Alba attention on process control and product testing.
Acoustic insulation
Certifications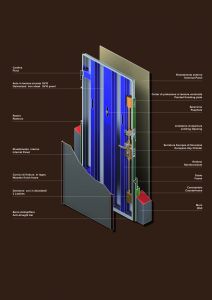 Break-in attempts resistance
UNI ENV 1627/30
Reference standard on the evidence of break-in attempts
"Classe 3"
Acoustic insulation optronal 40dB
(UNI EN ISO 10077/1-UNI EN ISO 140-3)
Door ensured for a whole year by "Groupama" against break-in attempts.
Products certifications:
Break-in attempts resistance (UNI ENV 1627/30) "Class 3"
Acoustic insulation (UNI EN ISO 10077/1-UNI EN ISO 140-3) – optional 40 dB
Quality ALBA PROTECTION SYSTEM
Tech
Data sheet
– Anchor points: 17
– Steel frame 20/10 in antique marble Dark Brown color
– Door leaf in galvanized metal sheet 10/10
– Internal soundproofing (optional)
– Three vertical reinforcements with metal sheet 10/10 omega bending
– Three rostrums hinge side
– Two switches with 3 Mottura pivots
– Lock with two turn-keys with 4 latches and bolt
– European Cylinder with five sealed keys ann a "spare kay"
– Drill-resistant Defender
– Wide-angle spy-hole
– Opening limiting device
– Automatic door sweep
– Adjustable hinges on both sides
– Hinge-convers caps in Dark Brown color
– Standard handle in Polished Brass color
– Protection Carter Edge-Door in Dark Brown color
– Internal protection panel with wooden frames
– Internal/External panels in:
• Smooth wooden conglomerate
• Grooved Okoumè
• Solid wood
• Alluminium
MADE IN ITALY marked CE