WOODY
FEATURES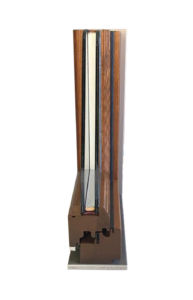 Windows in Laminated Pine wood with thickness of the shutter 68×70 mm, available also with thickness 80×70 mm;
Internal wood available in Modern style or, on demand, in Baroque style;
Double seal Schlegel;
3 phases water painting productive process;
Cut at 90°;
Double glass SGG PLANITHERM 4S, available with profile 80×70 also with triple glass;
Wood colors, White or RAL painting on demand;
Standard handle and hardware Made in Italy;
Thermal break threshold base.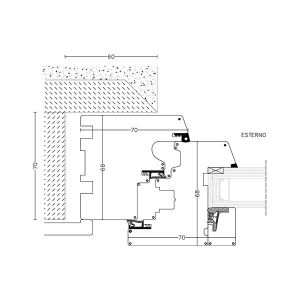 WOOD ADVANTAGES
Appearance: wood is the most authoritative raw material, widely used thanks to the many appearance possibilities. Also other less valuable materials can be made pleasant if they pretend the woody veins. From an aesthetic point of view, however, there are no rivals;
Duration: let's dispel the myth that PVC is the only material that lasts forever and requires no maintenance. According to the Green Building Digest (source: Greenpeace), quality wood windows, if properly maintained, last as long as the building they are installed in;
Perfomances: wood is an excellent natural isolating, however it is important to point out that the performance is not only related to the frame material, but to the complexity of the window in its accessories, glass and gaskets. These elements, if they are of quality and correctly assembled, make the performance of acoustic and thermal insulation of wooden windows very high;
Sustainability: production processes to make wooden windows involve less energy than the windows made of other materials. Wood moreover has a life cycle of around 30 years, therefore an extremely renewable resource. By comparing wood to another material, such as PVC, the different environmental impact is obvious: in PVC there is a high presence of chlorine, highly polluting element. Furthermore, materials, used for production, are highly toxic. Leading companies such as Nike, IKEA, Volvo and Volkswagen and countries such as Germany, Austria, Denmark and Sweden have undertaken policies to eliminate PVC from public and private products and buildings (source: "Wooden doors and windows: environment and energy saving" Polytechnic of Milan). Also in Italy there is a bill that limits the use of PVC in different fields (bill n.366 deposited in 1997: Standards for the prohibition of the use of polyvinyl chloride in some products).
MATERIALS
It is important to clarify that windows performances is not only related to the material used, but to the complexity of the window in its accessories, glass and seals. These elements, if of quality and correctly assembled, make a high performance of acoustic and thermal insulation. For this reason, Alba has chosen exclusively materials and leader suppliers for innovation and reliability: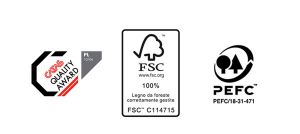 Wood: Wood used, exclusively Made in Italy and certified eco-sustainable, guarantees a natural aesthetic value, thermal and acoustic insulation, malleability and versatility. Furthermore, the durability and recyclability of wood makes this material sustainable and environmentally friendly.

Glass: Glass is an essential element to made performing windows. Alba uses the glass of the French industrial leader Saint Gobain. SGG PLANITHERM 4S standard glass is a clear glass with deposits that provide, at the same time, more thermal insulation and greater solar control. Winter-summer comfort function maintains a pleasant atmosphere all over year:

In summer time, thanks to its solar control function, 4S glass rejects twice as much solar energy as a normal double glass;
In winter time, 4S glass offers thermal insulation 3 times higher than that of a normal double glass;
All this allows to reduce the cooling and heating costs of the home, lowering the cost of bills by 30%.
Seals: A chain is said to be strong just as much as its weakest link. This also applies to the windows industry. Doors and windows are as strong as their seals. A low-quality seal can easily neutralize the energy savings of insulated profiles and HR glass filled with Argon. For this Alba uses only Schlegel seals. Thanks to the 10-year warranty, the Q-Lon seals are a safe choice over time. Compared to common sealing systems, the advantages are an incomparable resistance to compression and stretching, temperature changes, molds, pollution and paints.