Alba, thanks to the cooperation with the French company Fimfra sarl, has released an important project in Saint Tropez in France. The private residence has been released focusing on the customization of products. They were made wooden windows, interior doors and armored doors.
WOODEN WINDOWS
They were made the following products:
Electric motorized window in wood, a window which can be lowered completely down, with a simple button, able to make easier the passage between the interior part and the outside porch of the house and creating a manageable and elegant space;
The wooden windows were made in the colors, shapes and openings required by the customer;
Wooden windows with magnetic shutters (as the picture on the right) to make the closing and opening of it more simple and elegant;
The wooden window in the form of a porthole with an electric shutter in the same form, able to transform the window into a single piece of furniture in its kind;
The wooden French windows with blue shutters that reflect the simple and fresh style of classic French country residence.
INTERIOR DOORS AND ARMORED DOORS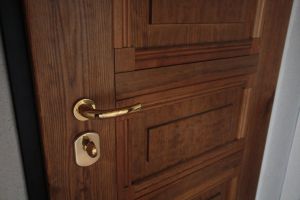 They were made the following doors:
The blue armored doors with a simple and linear design, coordinate with the wooden windows, the accessories are in bronze color;

The wooden armored doors with classic and elegant shapes and design and polished brass accessories(as the picture on the left);

The interior doors both knocker or sliding in blue color or in wooden shades to match perfectly with the armored doors, accessories in opaque satin bronze color with ceramic inserts.
Thanks to our accurate design work and planning, we are able to offer unique, specific and innovative solutions which go beyond the classic use of wood.